The word Svastha in Sanskrit refers to the state of complete well-being and balance.
Svastha Yoga & Ayurveda was founded by A. G. Mohan and Indra Mohan. A. G. Mohan was a personal disciple of the legendary yogi Sri T. Krishnamacharya from 1971-1989. His wife, Indra, received a post-graduate diploma in yoga from Krishnamacharya.
The principle of Svastha Yoga is practicing yoga in the way that leads each individual to well-being. It is not about a particular style of practice. We integrate the ancient wisdom of yoga and ayurveda with modern science and medicine to offer accessible, insightful, and sustainable skills for your wellbeing and self-care.
In Singapore, the following Svastha Yoga & Ayurveda programs are conducted directly by Nitya Mohan and Dr. Ganesh Mohan.
---
Teacher Training and Personal Wellbeing with Nitya Mohan
11 Feb , 2021 – 04 June, 2022
The Svastha Yoga Teacher Training is a special program which integrates the traditional teachings of Krishnamacharya with modern wisdom.
If your intention is to:
– deepen your own practice;
– become a yoga teacher; or
– integrate practical yogic tools and techniques into your life;
this program offers you what you need.
You will learn the techniques and gain the skills to practice and teach yoga from a foundation of real knowledge. This program is also an opportunity for self-development and personal transformation.
"The focus of this training program is experiential and transformative. True yoga education (vidya) is 'lighting a lamp, not filling a bucket." – A. G. Mohan

The Singapore Training: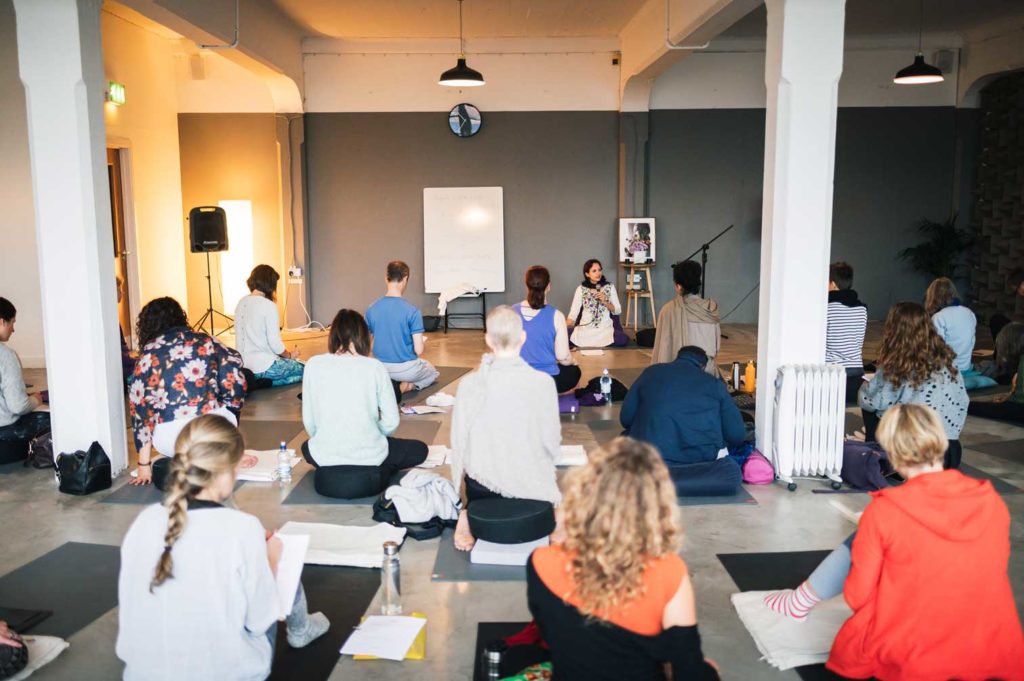 This training program is one of the oldest in Singapore. It has been running since 2001 and is offered only once a year. All classes are accompanied by extensive course materials and recordings to support and integrate the experiential learning.
The entire course in Singapore, will be personally taught by Nitya Mohan, along with opportunities to interact and attend lectures by Dr. Ganesh Mohan. This training is regularly updated and combines the collective knowledge, areas of expertise and insights of the entire Mohan family.
For further details of the Svastha Yoga Teacher Training Program, please click here or email [email protected].
---
Sound for Wellbeing with Nitya Mohan
These workshops on Sound and Music as a modality of health and integrated wellbeing are based on ancient teachings and wisdom, drawing from classical texts on yoga as well as validated scientific practices.
This program is for you if
You would like to infuse your practice and teaching with Breath and Sound based tools and practices
You would like to learn to use your own voice for meditation and use Sound as a tool for personal transformation
You would like to gain an authentic understanding about the links in ancient Yoga, music and mantra texts, integrating them into daily life practices
You are interested in Chanting, Vedic phonetics and Sanskrit
All areas of knowledge will combine theory as well as practice to empower the participants to integrate this immediately into their daily lives and teaching. For more details on the Sound for Wellbeing program click here or email [email protected]. The PDF brochures for the same are available through the links below.
---
Svastha Yoga Therapy Training with Dr. Ganesh Mohan
This professional program on yoga therapy brings you the most effective aspects of traditional yoga and ayurveda combined with modern medicine.
Approach
We take a skill-based approach, empowering you to work on yoga as prevention and as therapy. This program will provide you a solid foundation to grow from in your work as a yoga teacher and therapist, and is also useful to serious students who wish to deepen their understanding and practice.
Guidelines
Specific guidelines for different conditions and general treatment principles will also be detailed, empowering you to safely and effectively address disabilities and ill-health through yoga.
Format
The program is delivered in 7 intensive modules (5 days for each module) with a flexible structure. Modules 1-6 may be attended independently and certificates will be issued for each module.
For whom?
This program should be of interest for yoga teachers with a minimum of 200h of studies from any lineage, style, or methodology with or without a medical or scientific background.
For further details on the Svastha Yoga Therapy Modules, please click here.
This is an international program running in 20+ locations around the world. Dates for the Therapy Training Program in Singapore will be announced soon. Please sign up to our newsletter to stay updated.
---
Teachers
Nitya Mohan, daughter of A. G. Mohan and Indra Mohan, has been the director of Svastha Yoga & Ayurveda teacher training programs in Singapore since 2001. She has been teaching for over 25 years. Trained from a young age in yoga, music and Sanskrit, she is also a lifelong practitioner. She conducts seminars, workshops and yoga trainings internationally. She is an exponent of Vedic chanting, holds a music degree and performs internationally. She is a skilled and experienced teacher and an exceptional singer hailed for her purity of voice.
Dr. Ganesh Mohan, son of A. G. Mohan and Indra Mohan, was trained in yoga from early childhood and is a medical doctor, with a background in both modern modern medicine and Ayurveda. He is at the forefront of the emerging field of yoga therapy, and for a decade has conducted yoga teacher and yoga therapy trainings around the world in more than a dozen locations. He works with other healthcare professionals and yoga teachers to develop and offer well-being programs.