The Svastha Yoga Teacher Training is a special program which integrates the traditional teachings of Krishnamacharya with modern wisdom.
The principle of Svastha Yoga is to lead each individual to well-being. We integrate the ancient wisdom of yoga and ayurveda with modern science and medicine to offer accessible, insightful, and sustainable skills for your well-being and self-care.
If your intention is to:
– deepen your own practice;
– become a yoga teacher; or
– integrate practical yogic tools and techniques into your life;
this program offers you what you need.
You will learn the techniques and gain the skills to practice and teach yoga from a foundation of real knowledge. This program is also an opportunity for self-development and personal transformation.
"The focus of this training program is experiential and transformative. True yoga education (vidya) is 'lighting a lamp, not filling a bucket." – A. G. Mohan
The Singapore Training
This training program is one of the oldest in Singapore. It has been running since 2001 and is offered only once a year. All classes are accompanied by extensive course materials and recordings to support and integrate the experiential learning.
Sri Krishnamacharya was one of the most influential yoga masters and scholars of the last century, often referred to as the "father of modern yoga." A. G. Mohan was a personal student of Sri Krishnamacharya for 18 years and is a direct link to the authentic yoga traditions.
The entire course in Singapore, will be personally taught by Nitya Mohan, daughter of A. G. Mohan, along with opportunities to interact and attend lectures by Dr. Ganesh Mohan.
This training is regularly updated and combines the collective knowledge, areas of expertise, and insights of the entire Mohan family.
The Teachers: About the Mohans
L-R: Ganesh Mohan, A. G. Mohan, Indra Mohan, Nitya Mohan
Nitya Mohan, daughter of A. G. Mohan and Indra Mohan has been the director of Svastha Yoga & Ayurveda teacher training programs in Singapore for over 18 years, since 2001. She has been teaching for over 25 years. Trained from a young age in yoga, music and Sanskrit, she is also a lifelong practitioner. She conducts seminars, workshops and yoga trainings internationally. She is an exponent of Vedic chanting, holds a music degree and performs internationally. She is a skilled and experienced teacher and an exceptional singer hailed for her purity of voice.
Dr. Ganesh Mohan was trained in yoga from early childhood and is a medical doctor, with a background in both modern modern medicine and Ayurveda. He is at the forefront of the emerging field of yoga therapy, and for a decade has conducted yoga teacher and yoga therapy trainings around the world in more than a dozen locations. He works with other healthcare professionals and yoga teachers to develop and offer well-being programs.
A. G. Mohan is internationally respected as one of the most senior yoga masters at this time, and a direct link to the authentic yoga traditions of yoga. With more than 45 years of experience in studies and teaching, he started as a disciple of the legendary yogi Sri Krishnamacharya in 1971 and went on to study with him until 1989. Along with the other Mohans, he is the author of numerous books published internationally.
Indra Mohan is one of the very few people ever awarded a postgraduate diploma in yoga from Sri Krishnamacharya. With 45+ years of experience in the yoga field, she is one of the senior-most yoga teachers in the world. She brings a compassionate approach to all her teaching and her students, and she is a skillful and insightful yoga therapist.
Program Structure
6-month part-time structure.
Weekend intensive, once every month.
Weekly class: choice of morning/evening timing.
Personal, one-on-one classes with Nitya Mohan; flexible schedule.
Personal attention; limited intake of students each year.
No prerequisites other than commitment and interest in managing your health and well-being.
Certificate upon completion. Registered with Yoga Alliance (RYT-200) enabling you to teach internationally.
Opportunity to continue online education at YogaKnowledge.net.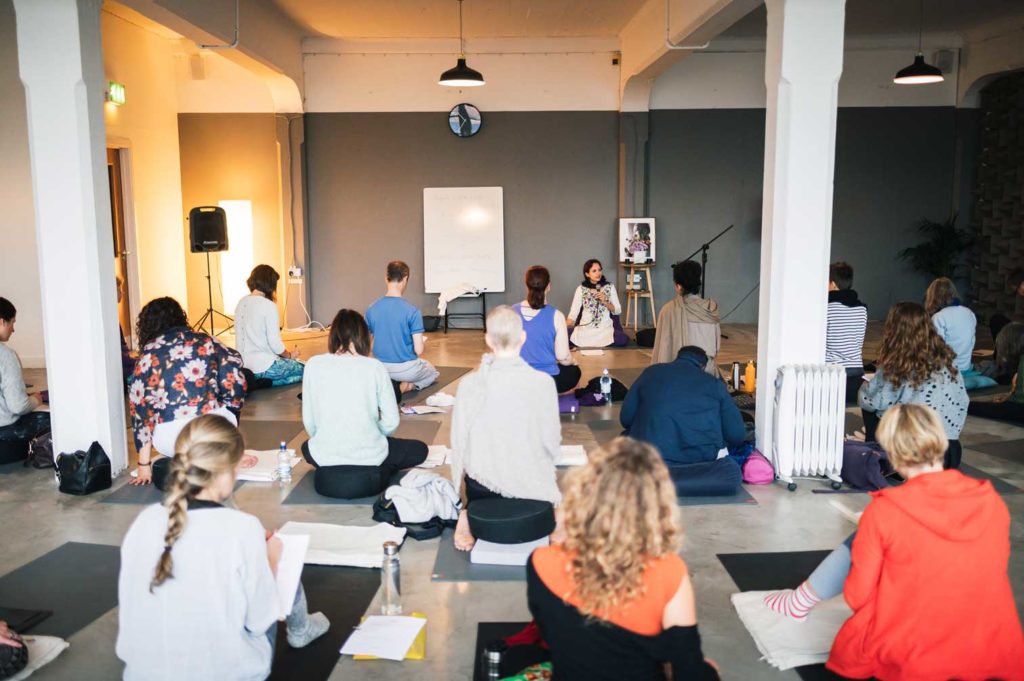 Program Contents
The program focuses on both personal development – learning to practice yoga for your own wellbeing – as well as the skills required for you to teach yoga.
Yoga Theory
Philosophy and psychology of yoga based on the Yogasutras of Patanjali.
Sanskrit terminology: key words and concepts to facilitate and retain authenticity in the teaching and transmission.
Theory of Krishnamacharya's hatha yoga practice.
Asana
Function-oriented approach to movement in asanas: awareness, stability, alignment, stretching, mobilization, daily life application.
Traditional vinyasa system of Krishnamacharya, combining breathing and movement.
Core asanas essential for fitness and in a therapeutic setting.
Preparation and balancing.
Common and useful variations
Using asanas to lead on to the advanced breath work and skill of the bandhas.
Connecting physical yoga to the deeper aspects of yoga and meditation and mindfulness.
Sequencing
Principles of sequencing from the traditional approach of Krishnamacharya and further developments from there.
Foundations of personal course planning and sequencing for your own practice.
Understand the principles of sequencing and develop sequences for different needs for others.
Bring together instructions, presentation, and teaching practices learned over the course to deliver yoga classes.
Pranayama
Principles and practice of working with your breath effectively.
Using asanas to prepare for pranayama.
All the important types of pranayama with practice.
Sound
Using sound in asanas.
Using sound in meditation.
Meditation
Theory of meditation and mindfulness: why, what, and how.
Practicing core meditation techniques and skillful mindfulness.
Anatomy & Physiology
Essential anatomy and physiology as applied to asanas.
Explore how functional anatomy can help you understand and practice yoga effectively.
Key principles of movement and breathing in asana and pranayama explored from the perspective of modern science.
Chanting & Mantras
Importance and theory of useful mantras for chanting and simple chants e.g. traditional Vedic peace chants.
Focus on the use of sound and mantra in asana, pranayama, meditation.
Practicing mantra meditation, intentions, and affirmations in yoga practice.
Ayurveda
Introduction to Ayurvedic doshas and basic principles of Ayurvedic dietetics.
Daily routines of Ayurveda.
Yoga Energetics
Mudras and bandhas: their importance and how to practice and teach them.
System of nadis, prana, cakras and their relevance to practice.
Personal Practice
Establishing and refining one's personal practice is a key element of this program.
Continuing Education
Following the teacher training, you can join the larger Svastha community internationally, with the possibility of going on with further therapeutic yoga studies. You can apply yoga to people with various health conditions.
The online platform YogaKnowledge.net contains hundreds of videos from the Mohans on the various in-depth traditional yoga topics from Yogasutra to pranayama and kundalini, offering you self-paced learning for years to come.
Mentoring & Support
Participants will receive one-to-one mentoring sessions during the training with Nitya Mohan. Private mentoring sessions are insightful and potentially life-changing – with key issues and obstacles identified and addressed.
What this program will give you
Skills to deepen your personal growth and effective yoga knowledge and practice you can use for the rest of your life;
Comprehensive knowledge of the full spectrum of yoga practices: asana, pranayama, meditation, yoga sutra, ayurveda, mantras and more;
Firm foundation and approach to teach yoga to people of all ages and fitness levels;
The opportunity to be part of a community of people who are similarly committed to a path of personal transformation;
A comprehensive base to progress to the Svastha Yoga Therapy Training program and deepen and widen your skills of yoga therapy;
An internationally recognized qualification enabling you to confidently teach yoga anywhere in the world.
Program tuition includes
Weekend intensives
Weekly sessions
Private sessions
All course materials making up a comprehensive training manual
All audio recordings
Internationally recognized certificate (Yoga Alliance)
There is also an option to pay in installments.
Date & Duration
The program will run from 16 October, 2021 to 27 March, 2022.
Venue
Goodman Arts Centre
90 Goodman Road
Singapore 439053
Application Process & Contact
As this is a special program with limited numbers and individual attention, students are accepted into the program only after a one-on-one meeting with Nitya Mohan. The personal one-on-one meeting, prior to acceptance, will be offered virtually until current situation eases.
This meeting will also offer you an opportunity to view the extensive course materials and go through them with guidance and also understand the detailed course contents, outcome, teaching methods and structure.
Registrations will open on 1 January, 2021
To arrange a meeting with Nitya Mohan:
Email: [email protected]
Phone: +65-98385242
Covid-19 Precautionary Measures
In view of the Covid-19 situation worldwide, the 2021-2022 Teacher Training will accept only students based in Singapore, and will be a limited intake program.
– We will, naturally, follow government advisories and regulations for the safety and well-being of participants.
– Large classroom space & limited student numbers allows for social distancing.
– If required, we have procedures in place to move classes online to complete the program, while retaining continuity in the learning process and personal attention.
The personal one-on-one meeting prior to acceptance will be offered virtually until current situation eases.
Reading List
The Mohans' books Yoga Therapy and Yoga for Body, Breath & Mind are used around the world in yoga teacher and yoga therapy trainings as source texts for course content. It is not a requirement for the program, but you can choose to pick up any of these books to familiarize yourself with the source and the approach of the teachings.
Below is the list of titles:
Yoga Therapy: A Therapeutic Guide to Yoga and Ayurveda for Health and Fitness. A. G. Mohan, Indra Mohan, Dr. Ganesh Mohan, Nitya Mohan.
Yoga Reminder: Lightened Reflections. A. G. Mohan
Yoga for Body, Breath, and Mind: A Guide to Personal Reintegration. A. G. Mohan. Foreword by Sri Krishnamacharya.
Krishnamacharya: His Life and Teachings. A. G. Mohan with Dr. Ganesh Mohan
Hatha Yoga Pradipika: Translation with Notes from Krishnamacharya. A. G. Mohan & Dr. Ganesh Mohan
Yoga Yajnavalkya. Translated by A. G. Mohan with Dr. Ganesh Mohan